I am fairly sure that in another life I was a raccoon or a crow. If it sparkles, my eye is drawn to it. I find myself drifting towards it in a zombie-like trance. "Shiny thing.... must touch..." When it comes to clothing, I have to remain very alert to this tendency and use great care, lest I end up dressed like Mike Meyers "Linda Richman" character on Saturday Night Live.
Luckily, I do not feel compulsively drawn to holiday themed sweaters with big, glittery snowmen/Santas/Christmas trees/ pumpkins on them. I think that is a whole different affliction, and my thoughts and prayers go out to those who suffer from it.
Years ago, my husband and I started attending estate auctions and tag sales as a hobby. First just to buy things for ourselves and home, then later to sell on ebay. I did really well selling vintage glass and collectibles on ebay for quite a long time. Until ebay changed and pretty much went down the toilet. So now it's back to just buying things for us when I go.
I started collecting vintage costume jewelry and evening bags that I would find at auctions/sales. I am a bargain hunter, so I've never paid a lot for any of it. Lots of sparklies for few dollars! Sometimes to get to the jewelry at an estate sale one does have to fight through the very aggressive jewelry dealers, many of whom are 300 pound man who have no qualms about body slamming a woman out of the way if they both have their eye on the same bracelet.
I missed out on a legendary fight one day between a very flambouyant male jewelry dealer (it takes a confident man to sport full eye makeup and rhinestone chandelier earrings as daywear in Akron Ohio) and a female who wanted the same Bakelite bracelet. The way it was told to me, there were many ugly things said, and a threat of face scratching (by him) as they played tug of war with that bracelet.
Feeling totally non productive on this snow day, I decided to take out some of my vintage glittery things, and take afew pictures of my favorites.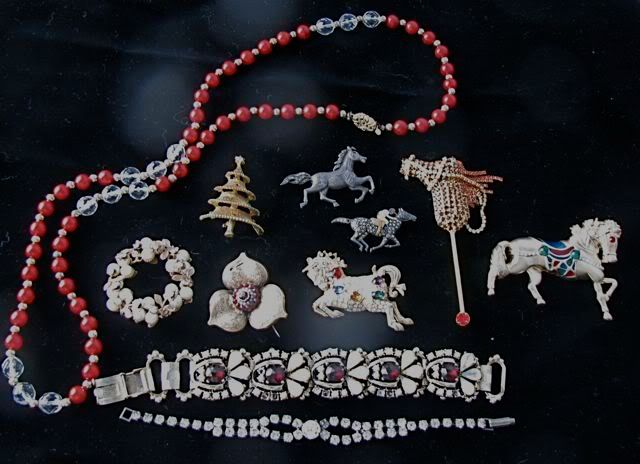 I do wear some of these things on occasion, though I generally limit myself to one piece at a time.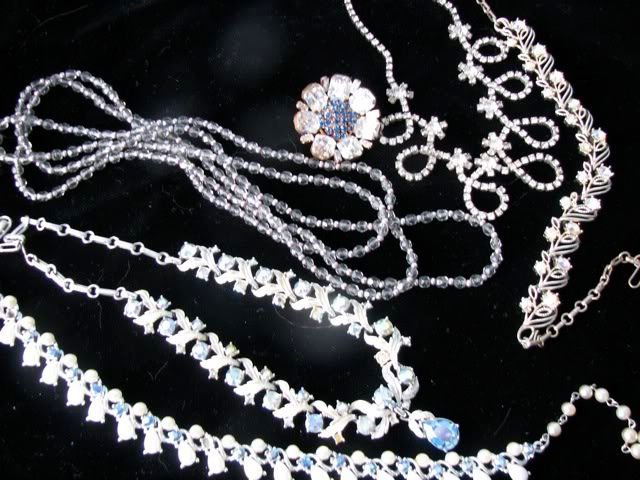 Whenever I take the sparklies out, my daughters ask if they can have them. I tell them "Absolutely. When I'm dead, you can split them". They both seem amenable to that.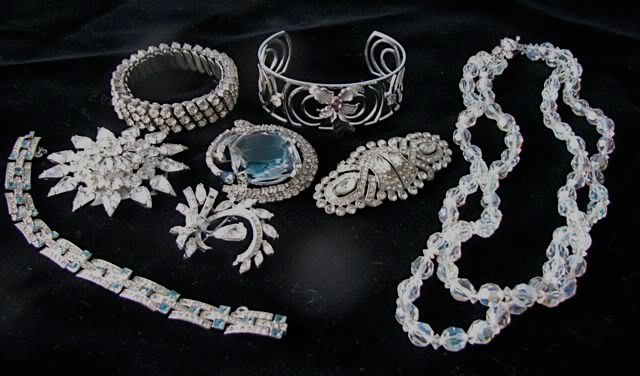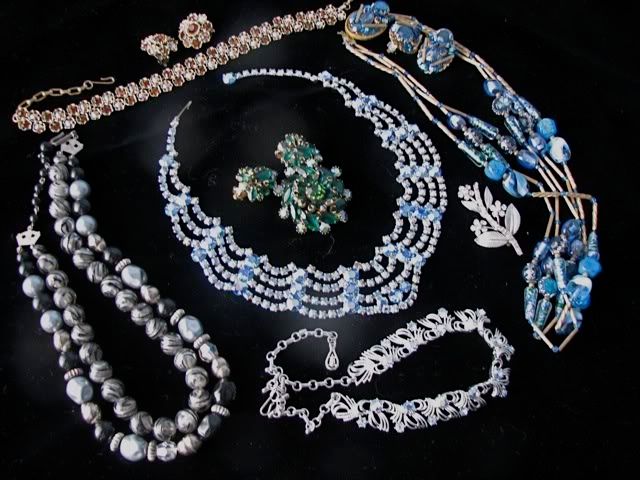 I could go to a fancy gown event every night for quite awhile with all of my shiny purses. I don't go to that many fancy events, but I find reasons to use some of them relatively often. The white, box type purse is made of Lucite and is from the 1950s. I use that one quite a lot actually, since it's not flashy. Just unique.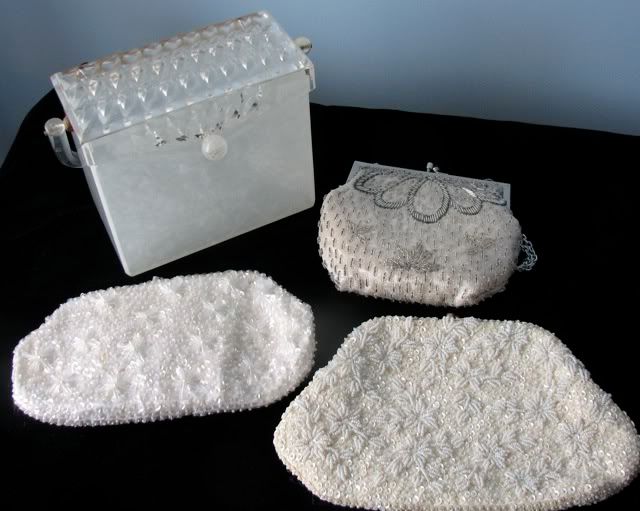 The silver bag on the top left is also quite versatile.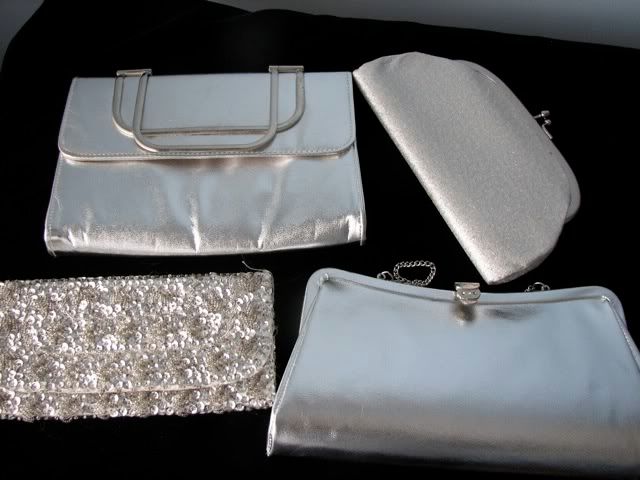 With these one can go from demure,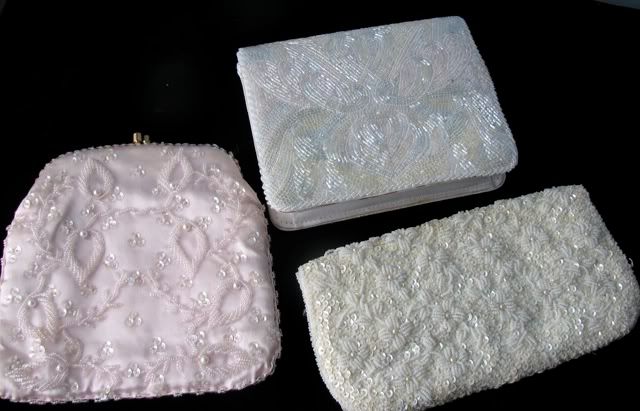 to disco...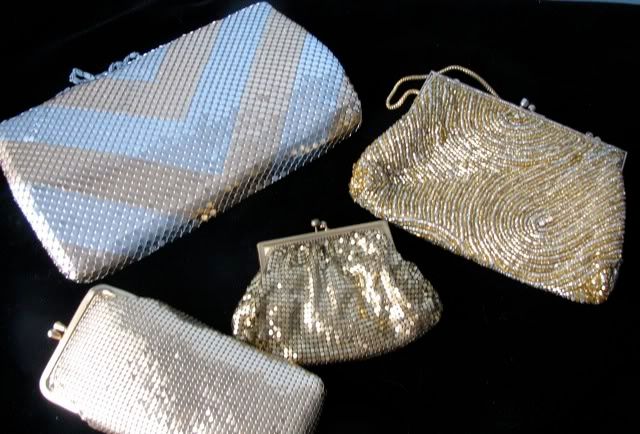 The one with the purple and black stripes IS a 70s disco bag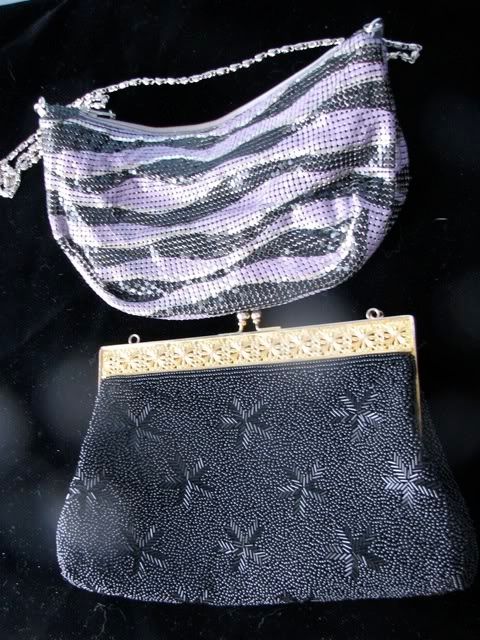 These 2 are my favorites. The tiny beadwork on the blue one is so intricate and well done. The other is mostly rhinestones.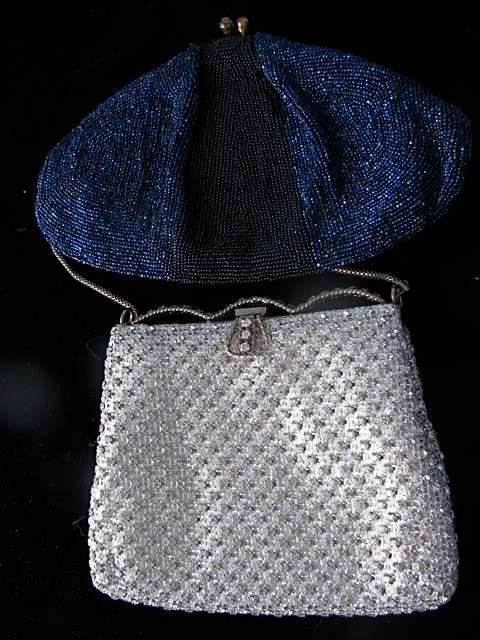 For everyday life, I tend to prefer an enormous purse that I can fill with stuff until it weighs 20 pounds.